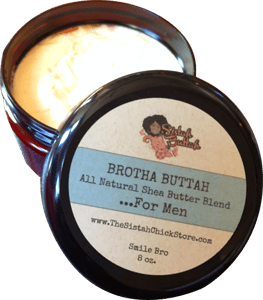 $

23.99
Fellas we got you covered!! Sistah Buttah is a handmade Shea Butter blend. It contains various aromatic & soothing oils that promote healing and growth.
BROTHA BUTTAH! (SISTAH BUTTAH FOR MEN!) Is a specially formulated blend with a new masculine fragrance!
LADIES: You're gonna LOVE this scent!
MEN! This blend is amazing and is ALL purpose.
*Add Shine to your Beards and promote growth
*Soothe those hair bumps and get rid of them!
*Shine up those bald heads and prevent scalp dryness
*Add sheen to that fresh hair cut
*Soften those cracked hands and feet